Ready!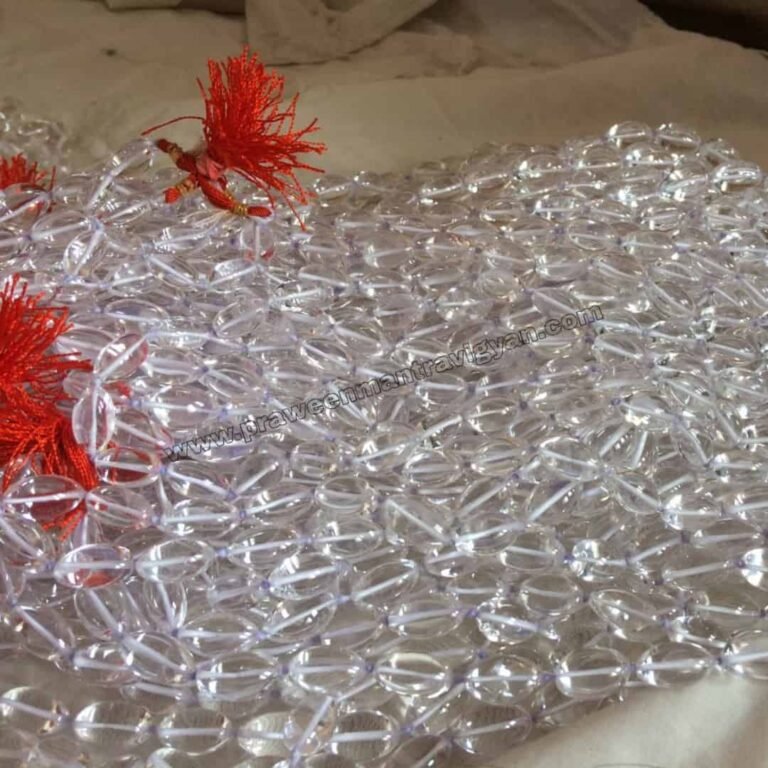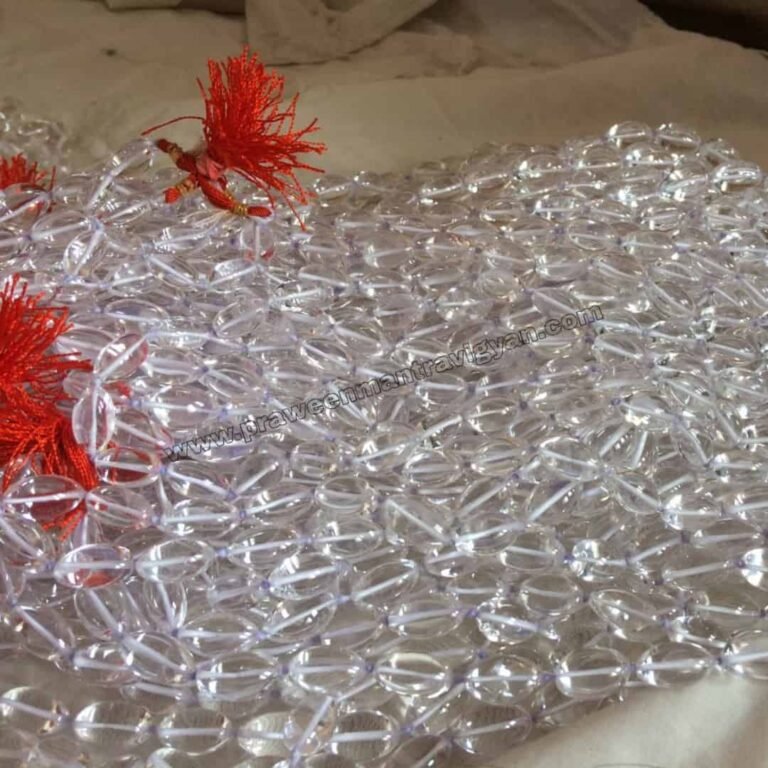 Sphatik Mala 8-9mm Oval Shape Approx
Sphatik Mala Oval beads are made in strong thread having each bead Mala made from Sphatik.
Size 8-9 mm Approximate
2 in stock
Description
This is an oval shaped rosary which is very beautiful to look at and is made of transparent rhinestones.Sphatik Mala removes all the disorders related to the planet Venus, increases good fortune, removes lack of money and helps a person to get happiness in married life.
Rhinestone garland is also called Shivpriya. It is considered to be the form of Goddess Lakshmi. Wearing rhinestone rosary crafted in silver gives more benefits.
यह एक अंडाकार आकृति की माला है जो दिखने में बहुत सुंदर होती है और पारदर्शी स्फटिक से बनाया गया है। स्फटिक माला शुक्र ग्रह से संबंधित सभी विकारों को दूर करती है सौभाग्य में वृद्धि करती है धन की कमी को दूर करती है और व्यक्ति को विवाहित जीवन में खुशहाली दिलाने में मदद करती है।
स्फटिक माला को शिवप्रिया भी कहा गया है। माता लक्ष्मी का स्वरूप माना जाता है। स्फटिक माला को चांदी मैं गढ़वा कर पहनने से अधिक लाभ मिलता है।
No more offers for this product!
Shipping Policy
1 Before packing the product, make sure that the parcel has the right goods and invoice guidelines book.
2 It is mandatory to have packing on fixed matrix. The parcel should be labeled in which barcode is clearly visible.
It is mandatory to handle a courier within 2 days of shipping order.
Cancellation / Return / Exchange Policy
On canceling the order, 20% cancellation charge and more than 3% cancellation and late shipment will be blocked.
General Inquiries
There are no inquiries yet.